Top 30 Highest Paying Jobs in Chicago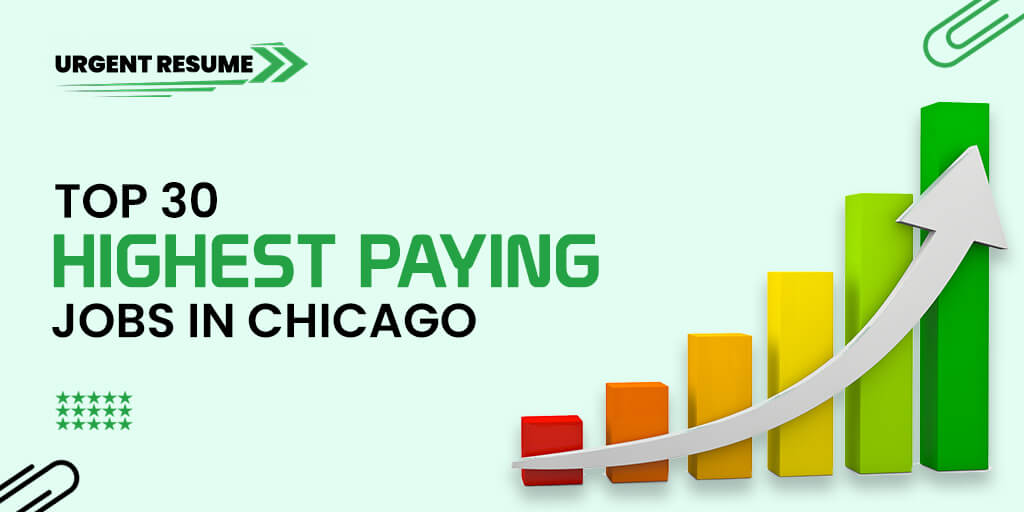 There is only one "The city of big shoulders" as everyone knows that title is reserved for snowy Chicago. The title is attributed to the fact that there is a big meat-processing industry present in the city. Still, we can also relate it to the city being a breadbasket for many people despite its harsh winter with thunderstorms. Choosing a career that fills your pocket overwhelmingly is lucrative for you or anyone so it's best to list them down here. These jobs give you an insight into what skills, qualifications, and licenses you require to grab them in the first go. The struggle doesn't just stop here as you will need an effectively crafted resume and linkedin optimization service. There are many affordable resume writing services that land you in a right place. Chicago residents earn a whooping average income of $61,860 annually which is generously 6% higher than the national average. US Bureau of Statistics data indicate these jobs as the highest paying jobs in Chicago:
1. Neurologists
Neurologists are expert in diagnosing and treating neural disorders which mostly affects the brain and its surrounding parts. They conduct a series of medical tests related to physical and mental health which help determine the cause of concern to deal with. Neurologists deal with diseases such as Alzheimer's or dementia. Neurologists top the list with an annual average income of $348,500
2. Dermatologists
Dermatologists treat skin diseases or other skin-related deficiencies. They treat a range of issues from the dullness of skin color & sunburn to skin cancer. Being experts in determining skin health conditions, they can quickly identify the medical cause of skin concern and provide respective treatment options for it. Dermatologists earn a significant annual mean wage of $340,840.
3. Ophthalmologists
Ophthalmologists are eye specialists who deal with the treatment of various eye diseases and improving eye vision. They also perform surgeries on eye parts such as the cornea to remove vision deficiency, cataracts, or eye disease. Ophthalmologist (not pediatrics) makes up an annual wage of $318,280 for living.
4. Orthopedic Surgeons
These surgeons are doctors who specialize in the treatment of the musculoskeletal system. Injuries and diseases are treated through diagnoses, examination, and final treatment. They also prescribe certain medications and treatments to reduce the after-effects of surgery. They earn an average of $317,560.
5. Pathologists
Pathologist doesn't directly deal with patients but assist fellow physician doctor. They provide details of clinical tests run on blood, tissue, urine, or any other human part to the doctor. Research tests and clinical trials are also conducted on such samples. Pathologists earn an average of $315,680.
6. Psychiatrists
Psychiatrists are experts at reading the psyche of other people and their role often revolves around counseling, mentoring & giving advice to others. The majority of wellness and counseling agencies along with mental hospitals look out for psychiatrists to hire. Educational requirements to become a psychiatrist demands a doctorate ideally or at minimum a professional degree. Their average annual income is $286,250.
7. Internal Medicine Physicians
Physicians who are specifically qualified for administering internal medicines are called Internists. They use clinical experience and scientific knowledge to effectively treat and diagnose various kinds of diseases or illnesses in patients with care. They draw an annual average of $281,220.
8. Family medicine physicians
Family medicine physicians do all the same duties as any other doctor physician but are more well-versed in treating family-related diseases and are usually aware of family history which includes allergies, illnesses, deficiencies, medicinal limitations due to side effects, etc. They know which medicine to administer for that particular family and are the first point of medical contact for the family if someone is infected. These physicians make up an annual average of $252,490.
9. Chief Executive
Chief executives also known as CEO are responsible for leading the companies to their respective goals and objectives. CEO is at the topmost hierarchy of a company. They ensure the profitability of the company which they lead. Linkedin optimization service should be the top priority of CEOs as they seek to understand market trends and improve the overall outlook of the company. Chief executives draw an annual average salary of $250,860 and it also racks up generous bonuses based on annual performance.
10. Nurse Anesthetist
Nurse anesthetists are those nurses which have sufficient knowledge related to administering anesthesia. They can understand the allergic history of the patient along with past illnesses before administering anesthesia. The entrance-level requirement for a such job role is a minimum of a master's level degree along with obtaining certain licenses and certifications. Nurse anesthetist earns up to an annual average income of $233,990.
11. Judge & Magistrate
Judge & Magistrate has almost the same legal powers & authority, case ruling & hearing when settling issues but there is a bit of difference as Judge exercise a tad bit more power and follow some different procedures while case hearing.
12. Airline Pilot & Flight Engineers
Airline Pilots and flight engineers have a different duties from each other but both play an important role in the safe and smooth running of aircraft. Pilots along with their co-pilots maintain the required altitude and speed to keep the plane from stalling or any other misadventure while flight engineers ensure the engine and other technical components of the aircraft are properly working and are in good condition. Airplane pilots including their co-pilot and flight engineers earn a handsome annual average of 195,020
13. Air Traffic Controller
Air traffic controller duties involve communicating and assisting the air traffic with weather and landing conditions along with giving the final go-ahead to land at a certain runway. There is an opening for air traffic controllers and you may give up due to increased competition or apply with low hope but that's not going to happen if you get the best resume writers for hire in Chicago. The best part of this job role is that it doesn't require much higher education as an associate degree is enough to apply for such a position. Air traffic controllers earn up to an annual average income of $158,210.
14. Computer & Information Systems Manager
CIS (Computer Information System) manager does planning, coordination, and other IT-related tasks through the usage of efficient software and hardware. CIS managers usually align their technical skills with business skills as the role demands such expertise. These roles are often advertised on the Linkedin platform where a linkedin optimization service would come in handy. CIS manager generally has a gross average annual income of $157,220.
15. Lawyer
One of the oldest professions but it's never out of town so do its employment prospects. There are many great law firms around Chicago looking to get the best lawyers in their team on board. Lawyers are certified legal professionals who settle and deal with lawsuits, fines, marriage or property conflict, divorce, parental rights, custody-related affairs, etc. Lawyers dig around an annual income of around $153,930.
16. Architectural & Engineering Manager
Architectural and engineering managers work in both research and production-related role. These positions are often found in architecture and engineering-related companies where such managers look after projects and plan them accordingly. These managerial jobs require a bachelor's degree as a minimum requirement to qualify. Architectural & engineering managers dish out an average annual income of $153,430.
17. Law Teacher
Law teachers are usually employed in law schools where students are pursuing L.L.B and other law-related degrees & courses. A doctoral degree & other related professional licenses & certifications are eligibility requirements for this role. They cover topics related to civil rights, federal laws, legislation, state laws, contracts, etc. Law teacher takes out an annual income of around $152,190.
18. Petroleum Engineer
Petroleum engineers often work at oil rigs in deserts or oil digging under the sea surface for the sole purpose of extracting crude oil which is then refined into petroleum. They also work in oil refineries overseeing the process of the refinery of petroleum oil. The qualification of these engineers is usually a bachelor's or master's in engineering with a specialization in petroleum or chemical discipline. Their annual net income is around $150,070.
19. Finance Managers
Finance managers deal with the organization's financial dealings, and budget making and possess adequate mathematical & statistical skills to make the best possible predictions out of complex modeling and analysis. They also make sure that financial obligations and practices are met under statutory regulations. The finance manager's annual income makes up to $149,950.
20. Engineering Teacher
Engineering teacher is a role comprised of both research work on engineering subjects and teaching engineering concepts to the students. These job positions are often advertised by universities, technical institutes, or colleges and require mostly a doctoral degree along with a professional engineering license to qualify for application. You need to get resume writers for hire in Chicago if you want higher chances of landing this role and also get linkedin profile optimization services as icing on the cake. Engineering teachers churn out an average annual income of $147,060.
21. Sales Manager
Sales managers often work in conjunction with marketing managers as sales and marketing are interconnected domains. These managers like other managerial roles supervise the sales team and often guide it from time to time to meet sales targets before reaching certain deadlines. They usually build a sales plan based on certain data and predictions while training the sales team. In terms of earnings, sales managers make quite a buck with an average annual income of $146,560. If you are a doctorate or masters in
22. Marketing Manager
Marketing managers are often hired to increase the marketability of the products as they research public opinion and interest so they can effectively influence their marketing campaign through different channels. Marketing managers are in constant need of a linkedin optimization service to increase the marketing potential of their company through contact with various digital marketing agencies on Linkedin and campaigns on other social media platforms. The role requires you to get good resume writers for hire in chicago if you wanna get hired for it as the resume itself speaks of how good will you be in marketing. These manager's efforts are worthwhile and crucial that's why they make a staggering income of $142,720 annually
23. Compensation & Benefit Manager
As the name implies, these managers generally have the role of streamlining an organization's remuneration policies concerning its employees, and such policies are made to also meet statutory requirements. They also provide salary reviews based on the domestic market. Their job role also includes designing packages of compensation & benefits which equitable and competitive in the market. Their annual average salary amounts to $141,340.
24. Natural Sciences Manager
These managers oversee the work of scientists and their role involves both administrative and research duties. The role of natural sciences manager demands an impressive resume for high-class research institutions and so you need the best resume writers for hire in Chicago. They also play an important part in the evaluation and hiring of researchers. They earn an annual grass income of around $140,000.
25. Physicist
There is almost 10% job growth nationally in the role of Physicists over a decade which highlights the rising demand in the research and development sector of various organizations. Physicists mostly work in astronomy, advanced electronics, nuclear physics, geophysics, etc. as a researcher making it one of the best research-based job roles. Physicists earn the wholesome amount of  $137,660 annually.
26. Purchasing Manager
Purchasing managers carry the main job role of overseeing procurement activities and also manage sourcing & purchasing operations related to goods, moveable assets, equipment, and services. There are many resume writers for hire in chicago who are gonna provide you with an optimized resume to apply for purchasing manager job positions. They are one of the backbone managers behind the smooth running of logistics operations along with supply chain managers. You can also keep an eye on Walmart as you would find many Walmart jobs having the same managerial role and requirements. They earn a decent annual average of $135,270
27. HR Manager
Steve Wynne is a prominent figure in the real-estate sector of the United States who once said "Human Resource isn't a thing we do; it's the thing that runs our business". The human resource (HR) department of any organization is like a bedrock that ensures each foundation is steady with employees being content and satisfied with their earnings and other aspects of employment. This is the very reason that each company or organization tends to pay their HR Manager significant wages so they can retain their employees and resolve their concerns with great interpersonal skills. HR Manager earns a good-looking annual income of $134,890 on average.
28. Dentist
As the name implies, it's the first thing that comes to our mind when there is a toothache or your child gets a fairy tooth but you know how hard it is to find the nearest appointment date and this surely speaks of the demand for a dentist. The job role of a dentist comes with a great paycheck of $134,770 as an average annual income.
29. PR Manager
You are an extrovert or ambivert and know how to become the center of attention at every moment and create a long-lasting positive image. What better than being a "Public Relations Manager"? Nothing! So, don't wait and get the required certifications, diplomas & a bachelor's degree because it doesn't take a Ph.D. to land a job in a PR Manager role. Don't forget to get the best linkedin optimization service as you will be an influencer on this professional social media platform and the role will demand you to get the best out of Linkedin connections. Your annual average income will gross around $133,480
30. Podiatrist
Let's kick off our list with "Podiatrists", while you may wonder that doing treatment of someone's feet would earn you such a big buck but like other medical occupations "Podiatrist" earn a significantly high income but obviously, this comes with the heavy cost of a Doctorate or professional degree. Your annual average income will gross around $133,270.